ProEnto is proud to announce it has developed a new Neonate Counter for hatching & dosing of Black Soldier Fly Neonate larvae.
Our 'NeoNate Counter' is usable for Black Soldier Fly Larvae producers that need insight in their breeding & production or for research operations and feed stock conversion improvement. Accurate measuring gives the data that is needed to improve feed efficiency, conversion rates and overall performance.
The 'Neonate Counter' contains a fully climatised system to maintain optimum conditions to hatch the eggs and dose the small neonate larvae to grow quickly for 2 to 5 days, before dosing them in crates for feedstock conversion. It is perfect for monitoring hatching rates and to be able to react quickly on a reduction in performance (hatching rate).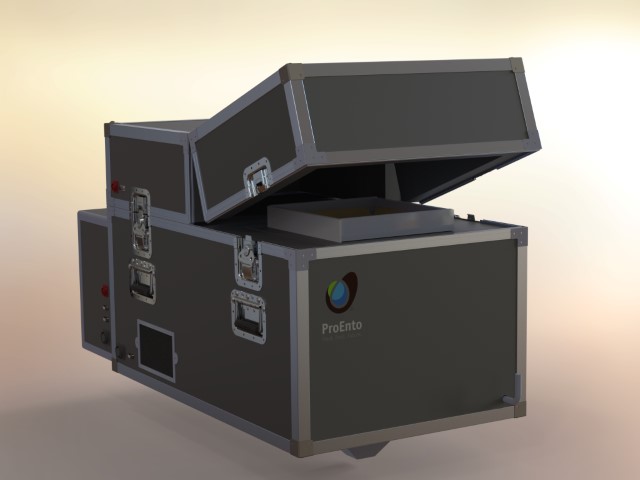 Benefits of our Neonate Counter:
Perfect for research due to accurate dosing of 100, 1000 or any amount of live neonate larvae
Accurate counting of neonate larvae to measure the hatching rate of eggs or continuous dosing
Measuring of hatching rates to monitor and improve breeding efficiency
Monitoring of performance for continuous production and quality control
Automatic continuous dosing of live neonates in collectors with starting diet
Less labor for sieving, weighing & sampling based on extrapolation
No more estimating on weight and averages of sampling 5DOL
Continuous growth to full size larvae with less handling
Hatch BSF eggs in a perfect climate-controlled hatchery
Higher accuracy compared to manual counting
Features:
Modular design for easy configuration and assembly
Adjustable amounts per dose of neonate larvae

Adjustable temperature and humidity

Remote access for monitoring and adjustments
Small footprint
Client based configurations
Alerting system by email or sms
Modular system with several core modules:
Incubator & Hatchery
Counter
Dosing unit
Nursery unit (if needed) with small dosing unit
Hardware controller
Contents:
Modular units for hatching, counting, dosing and system
Climate controlled environment for humidity & temperature
Hardware controller with machine vision and lighting
Custom build software
Touchscreen 7 inch for on-site control and monitoring
Additional options:
Backup power unit
Software adjustments per client with custom options
Conveyors for crates & stackers to client's needs
Feed line for hatching diet
Hatching during work shifts only
Are you ready for the next level in BSF farming?
Feel free to contact us at